Diameter of a circle - Definition and examples
The diameter of a circle is a straight line or segment that goes through the center of the circle and has both endpoints on the circle.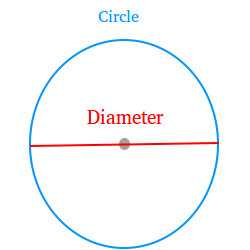 The red line in the figure above is the diameter of the circle.
You can also define the diameter of a circle as the biggest chord in a circle.
Feb 04, 22 05:28 AM

What is a vector? Definition, explanations and easy to understand read life examples.

Feb 03, 22 05:45 AM

What are vertical angles? Definition, explanation and easy to understand examples.