Definition of isosceles trapezoid and examples.


An isosceles trapezoid is a trapezoid whose nonparallel sides have equal length.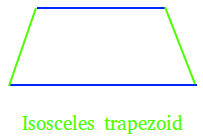 The nonparallel sides that have equal length are shown with the two green lines.
The parallel sides are shown with the two blue lines.
Feb 04, 22 05:28 AM

What is a vector? Definition, explanations and easy to understand read life examples.

Feb 03, 22 05:45 AM

What are vertical angles? Definition, explanation and easy to understand examples.