What is a negative number ? Definition and examples.


A negative number is any number less than zero. The following numbers are negative numbers.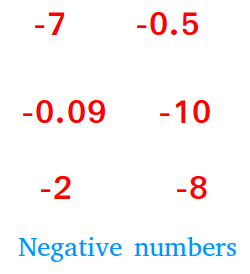 Unlike positive numbers, when a number is negative, you do not have a choice not to write the negative sign. You have to put the negative sign next to it!

There are many real-life situations that can be expressed with negative numbers. Here are some examples.


A withdrawal of 861 dollars can be expressed as -861

A loss of 10 yards by the football team can be expressed as -10

A deficit of 20,000 dollars can be expressed as -20000

35 feet below sea level can be expressed as -35

Jan 09, 19 04:18 PM

What does divisible mean ? A number is divisible by another number if ...

Jan 09, 19 12:41 PM

What is 1 foot ? 1 foot is a unit of length in the customary ...